---
BEWARE ! THIS PAGE HAS MOVED TO
---
Contents :
DODECHEDRON PROJECT
Top ranked in the "DMOZ Open Directory"
Medieval & western geomancy, with on-line simulation using oracles
from the "Astronomical Geomancy" ascribed to Gérard de Cremone, Cornelius Agrippa,
and from geomantic handbooks by Christophe de Cattan, Robert Fludd, and Geber (Djabir ibn Hayan).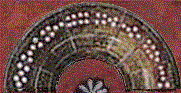 "Dodechedron" (or dodecahedron) is both the name of a twelve sides dice and the title of a rare old French Book of Fate(*)
12 refers to the Sky Zodiac Mansions, but a dice generally rolls on Earth ! This symbolizes an Earth astrology system,
basement of the western medieval geomancy inherited from early islamic world,
through middle latin translations initiated in the XIIth.c. with the
Hugo Sanctallensis "Ars Geomancie"...